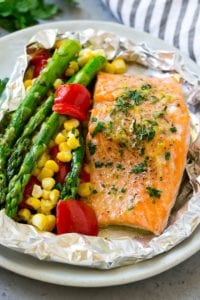 Baked salmon with steamed vegetables
Ingredients
1

Salmon fillet

1

tbsp

red thai curry paste

1

tbsp

reduced-salt soy sauce

0.5

red capsicum

Sliced and added to the salmon foil for baking

0.5

red onion

Sliced and added to the salmon foil for baking
Instructions
Prepare salmon by laying on alfoil on a baking tray. Add the marinade/spice mix to the salmon.

Close the alfoil and put in the oven

Cook at 180 degrees for approx. 10-20mins depending on size (you can check by break open the middle of the fillet with a fork to see if it is cooked all the way through. Cook until only just cooked through.

Serve with rice (e.g Basmati or Doongara) and a rainbow of vegetables cooked anyway.
Notes
Other marinade options to try:
Garlic + Olive Oil + paprika (add a salsa of chopped avocado, red onion, coriander and lime once cooked)
Spread a layer of tomato pesto on top before cooking. Bake with cherry tomatoes and zucchini.
Honey + Soy marinade: 1tsp garlic, 1 tsp ginger, 1⁄4 tsp pepper, 1 tablespoon soy sauce, 1 tablespoon honey
Parmesan crust: 1⁄4 cup panko bread crumbs, 1⁄4 cup grated parmesan, 1 tablespoon chopped parsley – Dunk the salmon in a whisked egg and then coat with the crust mix.
Sesame: 1 tablespoon soy sauce/tamari, 1 tablespoon sesame oil, 1 teaspoon rice vinegar, 1 clove garlic, 1 tsp sambal oelek, 1 tsp honey
Lemon herb: olive oil, lemon juice, garlic, honey and parsley (amounts according to taste)
Salmon fajita: dash olive oil, pinch of chilli powder, a pinch of smoked paprika, a small pinch of cumin, pepper, zest of lime